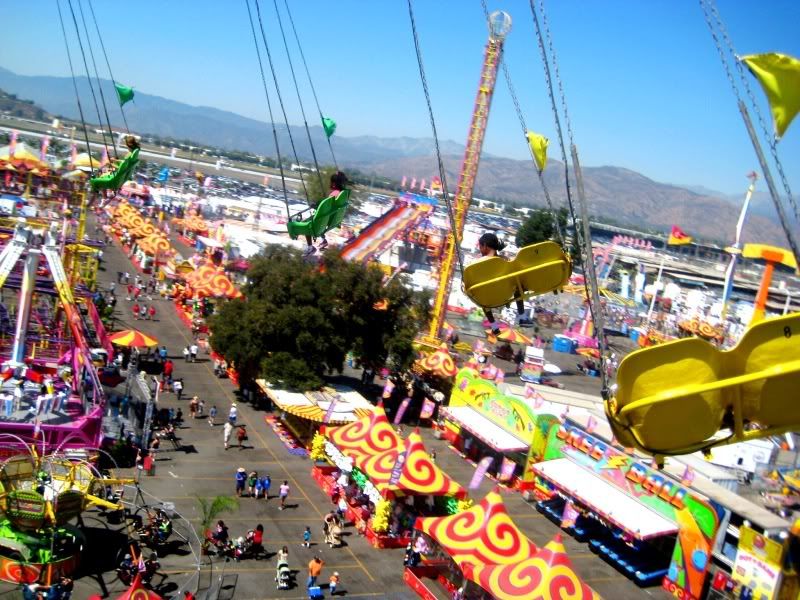 What a weekend...full of crazy fair food, carnival games and rides, and The Beach Boys! I adore county fairs, and as the
largest county fair in the United States
, the
LA County Fair
has a special place in my heart...I've been going since I was a kid. My two favorite things about the fair:
1) Gross fair food
2) The
End of Summer concert series
Word on the street is that the new deep fried specialty is deep fried butter, but thank goodness this is
only offered in Texas
. Honestly, the idea kind of makes me sick, though my coworker thinks it sounds exceptional. I guess the health differences between deep fried butter and deep fried anything else are probably marginal. Still...yikes!
I allowed myself one deep fried item this year, and it was: deep fried snickers. And it was...decadent. And tastier than I thought it would be! I doubt I'll ever have one again, though.
My other favorite item: chocolate covered banana, with sprinkles. When my boyfriend said - "Look,
Bluth bananas
!" I had to get one. Oh dear.
Sunday brought The Beach Boys concert with my mom, which was a special treat for both of us. The Beach Boys was my first concert ever when I was 8 years old, at Quakes stadium in Rancho Cucamonga. With Uncle Jesse (John Stamos) as a special guest. And I was a BIG Uncle Jesse fan. While he wasn't in attendance yesterday, the concert was still amazing! These guys are timeless and outstanding. They remind me of a pop-ier version of one of my current favorites,
Rebelution
. There's just something about that laid-back beachy vibe that makes me smile. Reminds me of Santa Barbara, I suppose.