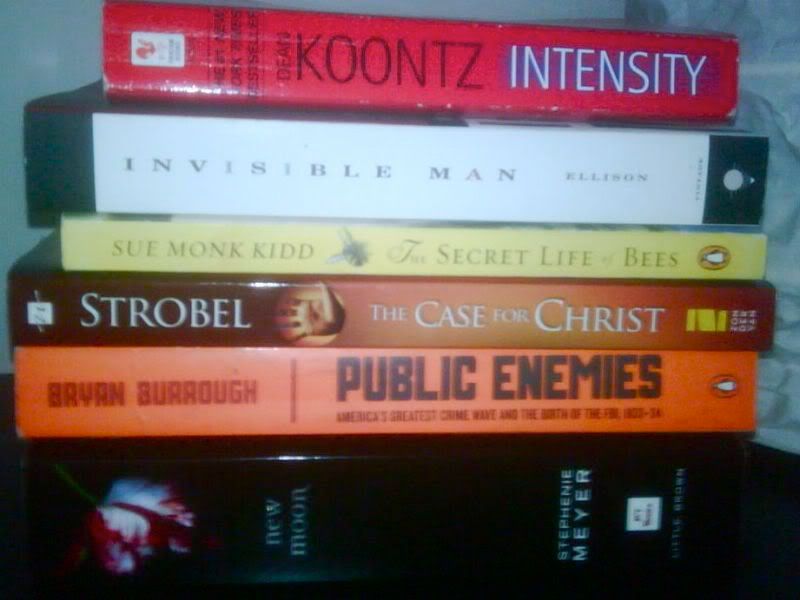 This is the lovely, lonely pile of books on my nightstand, waiting patiently to be read. Every night lately, I come home with work in hand and gaze longingly at my stack of books to read. I'm incapable of going into a bookstore and walking out empty handed. There is always a wonderful book that needs to be in my life.
Intensity - Dean Koontz
Just got this book from a good friend of mine, and I've been told it will ruin sleep for me. Apparently it's about serial killers or something? I'm interested...and scared.
New Moon - Stephenie Meyer
I already read this, but it is my goal to re-read it before the movie comes out. I have 17 days. We'll see how that works out.
The Case for Christ - Lee Strobel
Been on my list for awhile and it will get read eventually, for sure.
The Secret Life of Bees - Sue Monk Kidd
Borrowed this book from a friend sometime last year. Maybe admitting that will get me reading it finally!
Invisible Man - Ralph Ellison
To be read for a literature class that I enrolled in when things were slower. A class I very much want to finish, but am not sure will be able to. I plan to read this book regardless.
Public Enemies - Bryan Burrough
Factual and not as thrilling as the movie wanted to be (I didn't like the movie, which is another discussion). I love anything U.S. History so this is right up my alley.