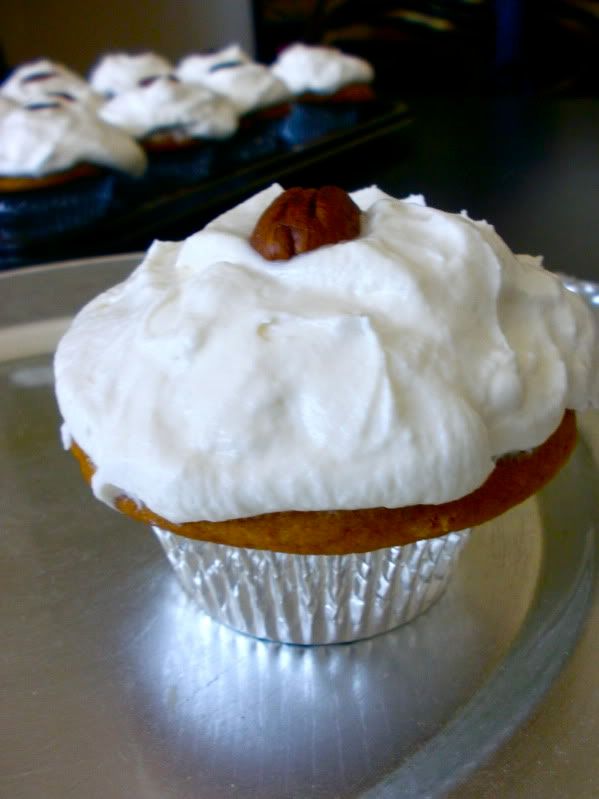 I am admittedly not a great food photographer (maybe Santa will bring me a book on food photography). But trust me when I say these cupcakes are to DIE for. Truth.
I've raved about the
cream cheese frosting
already. If you like an overly sweet frosting this isn't for you. It's the perfect amount of sweet and cream cheese-y and I can't get enough.
The cupcake recipe is from
The Way the Cookie Crumbles
- a recent favorite food blogger. I love that she does comparisons. I never have time but what a great way to find the perfect recipe! This recipe endorsement got me to finally buy some buttermilk...a rarity in my kitchen because I never use it. And now I'm playing around with recipes that use buttermilk. A yummy domino effect.
BTW I actually just dumped in the whole 15oz can of pumpkin, a bit more than noted in the recipe and it turned out great. I like that bit of extra pumpkin flavor. And for garnish I toasted some pecan halves I had in my cupboard and put one on each top. But they are just as good without that extra.
Two more days til turkey! I am trying out a bunch of new recipes this year and chucking a few old favorites in the interest of spicing things up for my family (no pumpkin pie this year! The horror!). Truth be told I will probably miss the pie immensely and it might get made later this weekend. It's my great grandmother's recipe, after all.