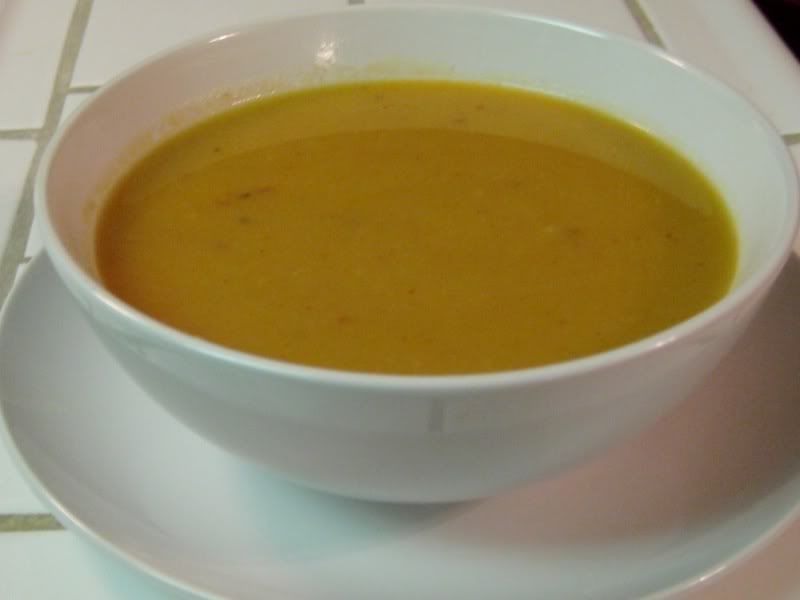 (My sad attempt at food photography. I have miles to go, clearly.)

Last night was windy and chilly...perfect soup weather. So I made me some soup!
D plays hockey on Monday and Wednesday nights, and usually I take it as my opportunity to eat fridge and cupboard scraps and not have to cook. But this week I decided to use hockey nights to try recipes that D wouldn't eat. Last night's menu featured Sweet Potato Chipotle Soup: off-limits spicy for D.
I hate buying an ingredient that will go bad long before I use it again, so I've taken to freezing small portions of things. Like canned chipotle in adobo sauce. What recipe ever calls for more than one of them? And I rarely ever use chipotle peppers these days. I love spicy foods though, even if they don't get made in my house often!
So I pulled the chipotles out of the freezer and made this soup with the immersion blender I inherited from
Mary
. Thanks Mary!
It was my first time using an immersion blender, and I'm in love. L-O-V-E love. SO easy.
Oh, and this soup is delish. Spicy and oh so good. Perfect for a cold windy night!
Sweet Potato Chipotle Soup

(Adapted from Martha Stewart)

2 tablespoons olive oil
1 medium white onion, chopped
2 teaspoons ground cumin
4 medium sweet potatoes (approx 2 lbs), peeled and cut into 1 inch pieces
2 cloves garlic, minced
1/2 to 1 whole chipotle chili in adobo, chopped (I was generous, I love spice!)
7 cups vegetable broth
coarse salt & ground pepper
In a large pot, heat the olive oil over medium high heat. Add the chopped onion, season with salt and pepper, and cook until beginning to brown around the edges, 5-7 minutes.
Add cumin and garlic and cook, stirring, until fragrant, about 1 minute.
Stir in sweet potatoes, chipotle chili and stock. Bring to a boil, reduce to a rapid simmer, partially cover and cook until sweet potatoes can be mashed easily with a spoon, about 20 or 25 mins.
Let soup cool slightly. Using an immersion blender, puree soup in the pot. This can be done in the blender too, in batches.
Season with salt and pepper, adjust seasoning if necessary.
Enjoy!