This weekend was everything I dreamed and more. What did I do? Basically...nothing. OK not really true, but it was the first weekend in over a month with nothing set on the agenda...something I've been craving for weeks.
Saturday I had a hair appointment with my favorite - Sebastian - over at
Scissors
in Santa Monica. I've been going to him for color longer than anyone I've ever been to, he is a magician with hair color. My general hair appointment routine is to score the earliest appointment available (10am) and grab some Urth Cafe tea (and possibly a goodie) beforehand, but the line was about eleventy hundred people deep for some strange reason, so I was stuck with Peets (not the same...sorry Peets lovers!).
After I got my hurr did, I headed over to Nordstrom to return a few items and do some browsing, then headed home and was inspired to clean out my closet. And I hit it...hard. I've never been so brutal on my wardrobe before! It felt amazing. I can honestly say I'd wear every item in there and nothing's there for sentiment or hoarding's sake - a tune I've never sung before.
Saturday night D and I stayed in, drank wine and watched
a movie
. I'd never seen it before, but it's one of D's favorites (he's played hockey his whole life!), so it was awesome watching it and getting a ton of background info and antecdotes from him.
Yesterday we decided to grab brunch and ended up at the Bar & Grill portion of
Literati
, which I've never had before. I always end up in the cafe side, and yesterday was a total treat. I love the menu and it's much less of a scene than the cafe side (and lovely to sit outside). We will be back!
I've been itching to do some sort of crafty project, and I was super inspired by this: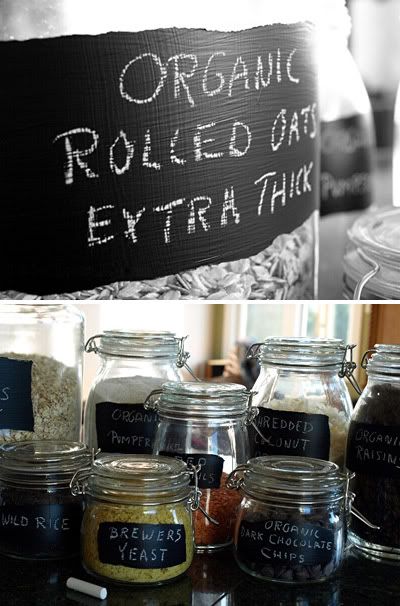 (Found here)

So I headed down to OSH for some chalkboard paint, then came home and decided my kitchen needed to be totally re-vamped and cleaned out, too. Bright ideas. I think I was a bit over-ambitious, but the kitchen looks amazing (and super duper clean) now, and the jars looks awesome! I'll try to get a picture of them once they are filled and labeled.
And here we are again, Monday. Have a lovely week! Is it
September yet
?