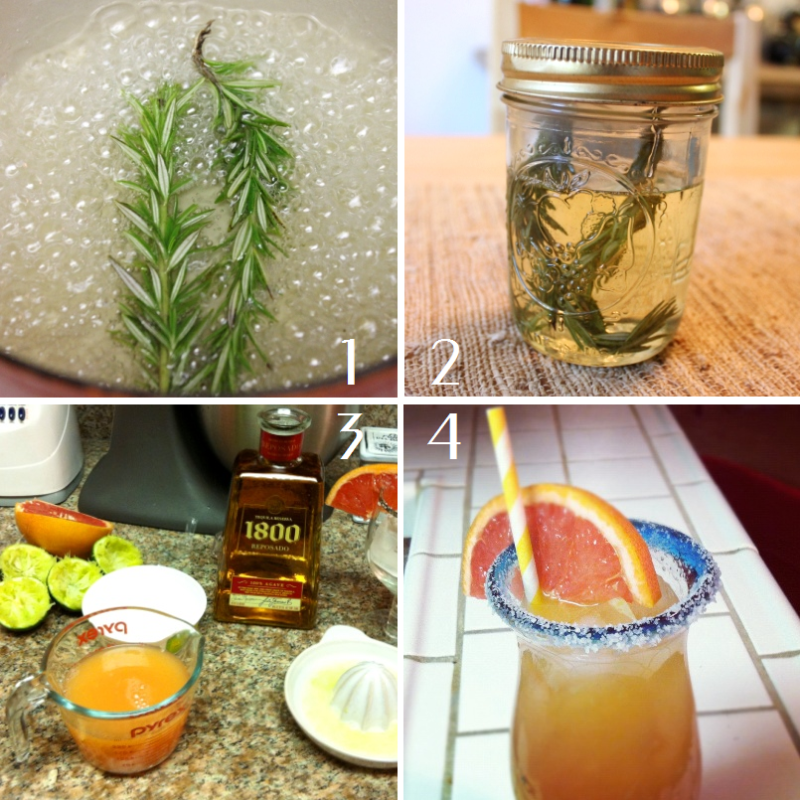 I have never really been a fan of fancy cocktails. Sure I'll order up something in a bar on occasion, but generally the sugar in mixed drinks makes me feel sick pretty quickly after the intial rush has worn off. I'm pretty simple - give me a bottle (or four) of wine and I am a happy girl!
Unfortunately I rarely have the motivation to finish off a bottle of wine in one sitting (even with D's help), and I worry the wine will go bad by the time I reach for it again. So I'm trying to broaden my horizons with single-serve beverages.* I'm developing quite the taste for scotch (yum!) and have been trying my hand with a few simple cocktails.
I'd been craving a grapefruit margarita ever since I found this recipe, so Friday night I picked up the provisions and made it. Delish. (Photos #3 and 4, above)
I also realized I had everything on hand to make a rosemary gin fizz, so I gave that one a whirl on Saturday. While I liked it, the rosemary flavor wasn't as pronounced as I hoped, so I made some rosemary simple syrup and tried again. WINNER. This has reignited my long dormant love for gin. (Photos #1 and 2 - simple syrup makin')
While wine is still my true love (and just fits right into my laziness - open a bottle and you're in business!), I think I'm going to continue branching out on occasion. Maybe another margarita while watching The Bachelor on my DVR tonight? I think I'll need it to get me through the Women Tell All (barf). Olé!
*Don't get me started on beer. I can't drink it anymore and it makes me weepy. I miss a good ol craft brew!
Rosemary Gin Fizz
adapted from Cookie + Kate / Makes 1 serving
1 oz rosemary simple syrup
1 small lemon, juiced
1 1/2 oz gin
club soda
ice
1/ In a small glass, mix the rosemary simple syrup and lemon juice.
2/ Fill the glass with ice, then pour in the gin and top with club soda.
3/ Mix and drink up...cheers!