This past weekend I flew up to the bay area to visit some of my best girls. I stayed - probably for the last time! - with my best friend at her lovely home in Los Gatos (a cute little studio she shares with her fiancé). She is packing up later this year and going to med school, and it's looking like Iowa is the lucky recipient of her and her guy. While they are ridiculously stoked for a bigger place on the cheap and some room to grow, I will miss visiting their lovely little yuppie suburb. Los Gatos is absolutely gorgeous and an amazing (and generally pricey!) place to live.
Saturday I brunched with 4 of my 7 bridesmaids in Newark at my friend and her husband's home. It was so nice seeing 4 of my favorite people in one room - a rarity!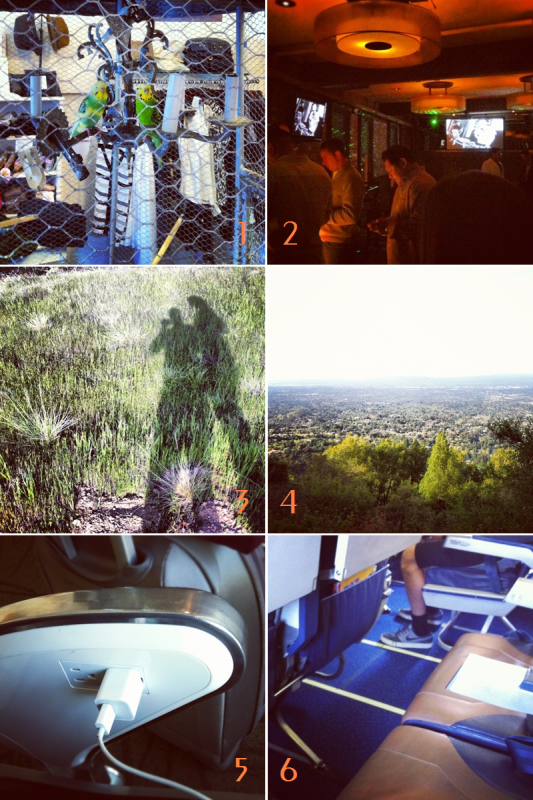 1 / Boutique shopping in Los Gatos - this place had live birds, which freaked me out at first!
2 / A restaurant that had all the lights up and a kid playing guitar/harmonica when we arrived. We watched the place literally turn into an electronic-pumping, laser-showing club around us. This pic was taken around 10pm. Probably one of the most amusing experiences of my life (esp considering I was still dressed from my flight that morning!).
3 and 4 / Hiking the hills of Los Gatos.
5 / The new San Jose airport terminal, with plugs at every seat at the gate - heaven!
6/ Probably my first and last time with a whole row to myself! The joys of flying on a holiday.