For Mom's Day, my brother and I collaborated on lunch to treat our mama to a home-cooked meal. My bro made a phenomenal spicy shrimp dish, and I was tasked with making a salad, side and dessert.
For the side, I kept things simple and roasted fingerling potatoes with a drizzle of olive oil, some salt/pepper and lots of fresh rosemary.
For the grand finale, I made vanilla whipped cream and salted caramel sauce (I'm kind of obsessed with salted caramel) to top fresh fruit. It was a huge hit, and so easy - I made the whipped cream and sauce the night before so it was super quick to serve up dessert and coffee after lunch.
The salad was just perfect, and since I pretty much only post desserts or treats on here, I figured I'd share this delicious recipe that I will most definitely be making again, and soon.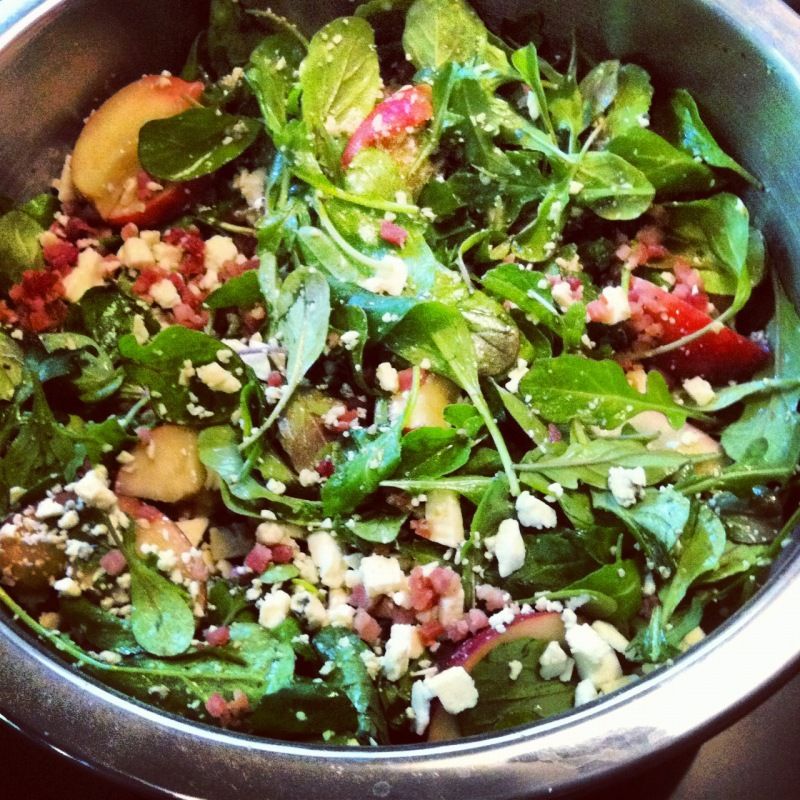 Peach and Arugula Salad with Pancetta and Gorgonzola
Adapted from Bobby Flay's recipe.
1 tablespoon coconut oil
3-4 ounces diced pancetta
2 tablespoons fresh lemon juice
1 tablespoon balsamic vinegar
2 teaspoons honey (agave works great, too)
1/4 cup extra-virgin olive oil
Salt and freshly ground black pepper
3 ripe peaches, halved and pitted, cut into slices
baby arugula (the original calls for 2 ounces, but I used a whole bag of fresh organic arugula)
5 ounces gorgonzola
1/ Heat the coconut oil in a medium saute pan over medium heat. Add the pancetta and cook until golden brown and crispy. Remove the pancetta to a paper towel-lined plate.
2/ Whisk together the lemon juice, balsamic vinegar, and honey/agave in a large bowl and season with salt and pepper. Whisk in the extra-virgin olive oil.
3/ Place the arugula in a large bowl and toss with the vinaigrette. Top with peaches, gorgonzola and pancetta. Enjoy!
Note: This recipe is easily multiplied - I made a double-batch on Sunday.