My uncle (Dad's brother) posted this on facebook, and I just had to steal it and share it here. My dad's family is so, SO wonderful...I can't wait to see them in a few short months!
Thanks for this beautiful slice of family history, Uncle Syd!
Side note: This was not prompted by anything in particular - my grandma still lives independently at 88 years old, is a queen bee at church and sneaks dessert whenever possible.
My real hero in my life is "Mom". She is the best person you will ever know. She comes from good German Rahlves stock. My mom is a rock solid person. She is honest. straight forward, intelligent, and giving. And she is always there for her family and me.
She was married at a young age to my biological father Sydney Robert Preddey whose history is short due to his untimely mid-air collision with another Navy Pilot cadet training in Dallas, Texas, during World War II. She was six months pregnant with me at the time of the accident. She was saddled with the responsibiltiy of bringing back the body on the train and arranging for funeral arrangements at the National Cementary in California.
And number of years later she married a great man, Robert Crawford, proposed to her on the first date and who adopted me. My parents had three children who are the greatest sisters and brother that anyone could wish for.
She comes from a family of four children being the youngest in the Rahlves clan. For many years we lived next to my Grandparents and as a boy of 13 I worked for my Uncles who had an outstanding construction business in the Oakland Bay Area and who taught me the value of hard work. One of my uncles died at relatively young age, but that did not stop the success of the business. The business actually flourished better than ever. Unfortunately, my other uncle died a number of years ago, but I saw him at the ceremony in Lake Tahoe celebrating Darons success in Europe.
I was also able to see my mom's sister who is also my Godmother at my sister funeral a year and half ago. In her 90's she still asked me whether I was attending church (I could not defer the answer). She would not let me. Also she weathered the sub-zero weather in Minneapolis to hear the Eulogy of the minister at my sister's grave.
Out of this wonderful Rahlves stock, my mom epitomizes the hero that she is and will always be in my life. I really can not put into words my love for her and my dad who passed and the great brother and sisters that my parents brought into this world.
Pics of my future husband and grandma, dancing the night away at my cousin Matt's wedding last year...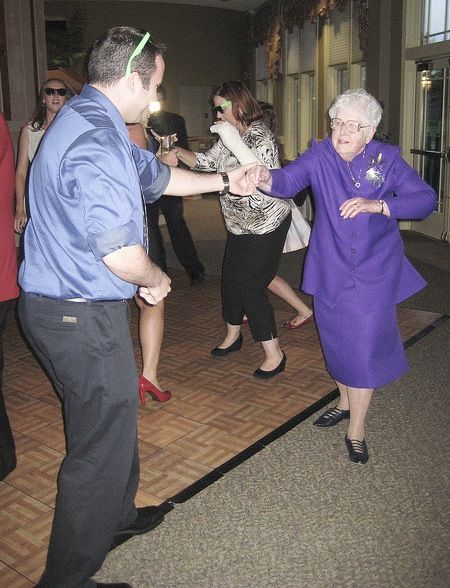 A few more grandma pics here.