Last weekend, D and I headed over to the new place to give it a little elbow grease before move-in (less than 2 weeks!!), and I grabbed a bottle of green juice from the grocery store for sustenance. I was not a fan - the taste was kind of chalky and a little bit slimy (not my thing, sorry Kombucha fans of the world). It had been awhile since I'd made my personal fave green juice, so I picked up provisions on my next grocery store run.
The beauty of this green juice recipe is that just an old beat-up blender will do the trick. I don't own a juicer and don't plan to in the near future - just another kitchen appliance to collect dust. Since this is made in the blender, it keeps all the fiber in the juice, which is another bonus.
This recipe is basically the love-child of at least 5 other recipes. I'm sure it would be even more dreamy if blended in a Vitamix, but my cheap old blender does the job just fine!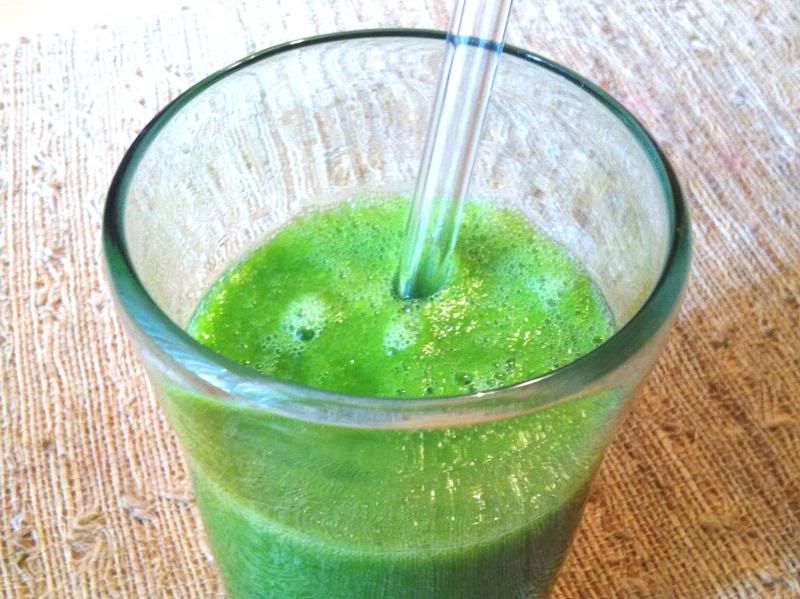 Green Juice
Makes 2 large glasses
// handful kale, spinach or both
// 1/2 cup canned pineapple chunks with juice (fresh would be delish, too)
// 1/2 green apple, chopped
// a few sprigs to 1/4 cup flat leaf parsley
// juice of 1/2 lemon
// 1 celery stalk, chopped
// 1 cucumber, peeled and chopped
// knob fresh ginger, grated (as much or as little as you prefer)
// water as needed, to thin
// ice cubes
// Optional: 1-2 tbsp ground flax seeds
Add all of the above ingredients (except ice) to the blender and blend for 2-3 minutes. If it is difficult to blend, add a bit of water in increments until desired consistency. Add ice cubes (I usually use about 5, but more or less is fine) and blend on ice setting for about a minute.
Enjoy!